Page 6 - Mesa Community College Student Handbook 2018-2019
P. 6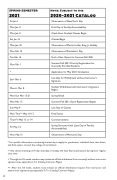 4
VISION
MESA COMMUNITY COLLEGE
MCC – Leading the way to success in our local and global community.
MISSION
MCC excels in teaching, learning, and empowering individuals to succeed in our local and global commu- nity. We serve as resource for college and career readiness, transfer education, workforce development, and life-long learning.
VALUES
LEARNING – MCC champions individual student success that reflects the highest academic standards.
INNOVATION – MCC delivers cutting-edge instruction and service.
SERVICE EXCELLENCE – MCC makes a positive difference in the lives of our students, community members, and each through meaningful relationships.
INTEGRITY – MCC upholds the highest standards of ethics and public stewardship.
INDIVIDUALS AND COMMUNITY – MCC encourages active citizenship and embraces the diversity of people and ideas.
STUDENT AFFAIRS STATEMENT
MISSION
Student Affairs is dedicated to Student Success. As leaders, we commit to attracting, engaging, and support- ing life-long learning – one person at a time.
VALUES
 We infuse these core values into our success-focused learning and relationships:
 Self-empowerment
 Achievement
 Diversity and inclusiveness
 Collaboration
 Community involvement
 Ongoing improvement and development
 Integrity
 Excellence in service
Student Affairs at Mesa Community College offers comprehensive support for the community and students. Our services at both the Southern and Dobson and Red Mountain campuses partner with the com- munity we serve and the institution to provide student-centered programs and services that value learning, diversity and citizenship.