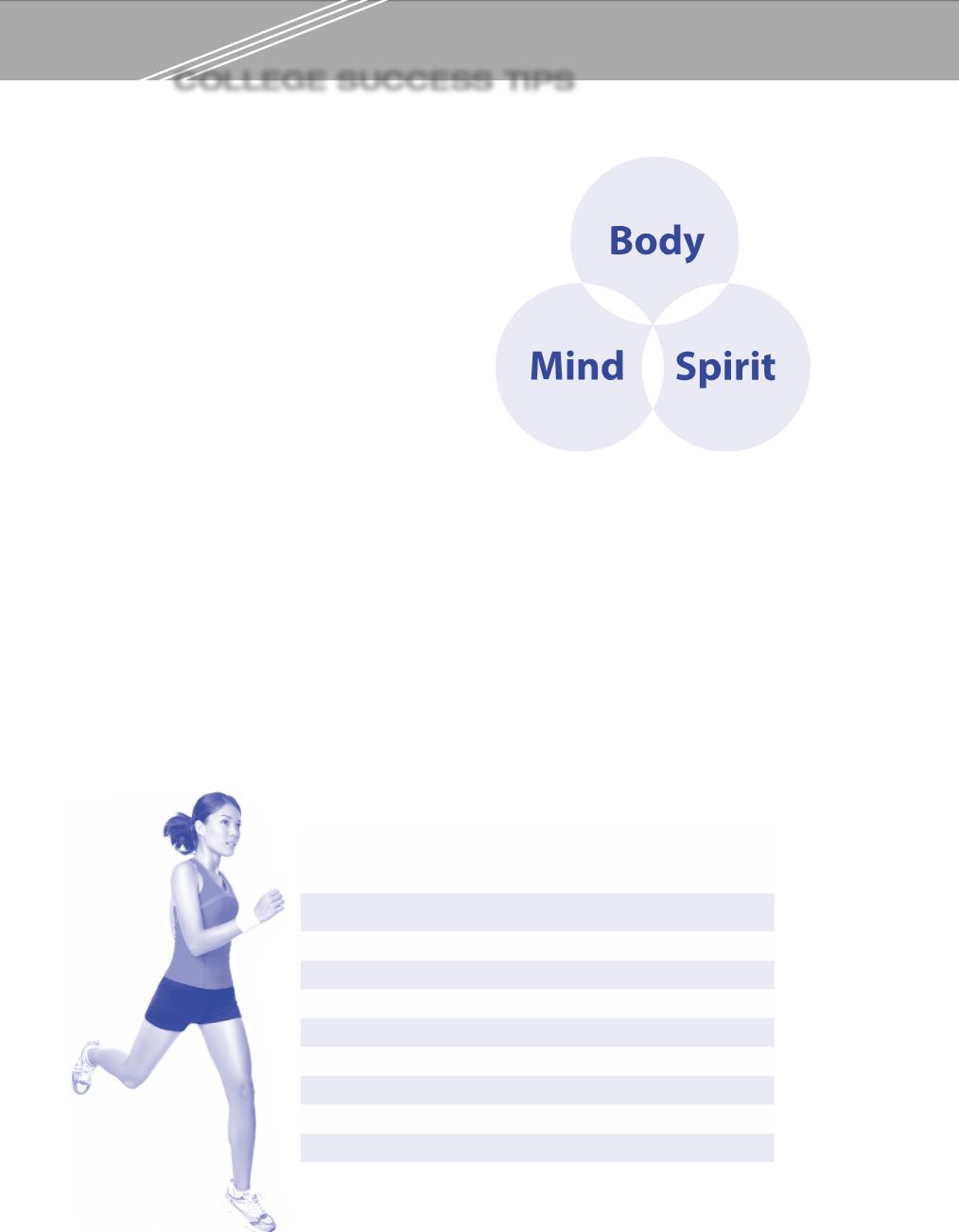 If you think about it, the key to success in school and
beyond is to strike a balance in your life between your
Body, Mind, and Spirit. Think of these three areas of your
life as a tripod: The survival of each part is reliant on
the success of the other two.
The research has been done, and the results
are astounding: regular exercise not only can
lengthen your life; it can make you healthier,
happier, smarter, and more productive in the short
term. Use your planner to keep a log of how often you exercise.
Research has shown that exercising 4–5 times per week:
• Boosts your immune system and makes you less susceptible to infectious disease.
• Enhances your mood, raises your self-esteem, and makes you less prone to
• Improves your concentration and your brain function, allowing you to retain more of
the information that you learn in class.
• Lowers your risk of long-term ailments such as heart disease, diabetes, high blood
pressure, colon cancer, and gallstones.
• Improves your sleep, making you feel better rested and more alert during the day.
• Keeps you trim, helping you lose fat and maintain muscle tone.
Average Calories Burned per 10 Minutes of Exercise:
125 lb person 175 lb person
R
e
s
t
•
M
o
v
e
m
e
n
t
•
N
u
t
r
i
t
i
o
n
K
n
o
w
l
e
d
g
e
•
S
e
c
u
r
i
t
y
•
C
r
e
a
t
i
v
i
t
y
P
u
r
p
o
s
e
•
F
a
i
t
h
•
R
e
l
a
t
i
o
n
s
h
i
p
s
44